In the June 2017 Yritysmaailma-magazine your able to read an article of the new WOLF-series made by Levanto.
Patrick Sandman, the managing director of Levanto, explains about the company's 80 years of experience and alongside development. Through the new strategy plans, a two-year product development work began in 2008 to achieve profitable drilling methods in Finland. Together with some organisational changes and new human resources the new core drill was launched during last year. The core drills are specially designed to provide excellent penetration/lifetime ratio and to function under hard ground conditions. The new WOLF-series are tailor made on a punctual schedule to meet the clients needs.
Check out the WOLF-series here!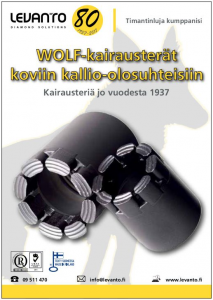 Read the whole article under the link on page 5.